She Always Checks Out With This Clerk At The Grocery Store. Then One Day She Grabbed Her Daughter...
January 12, 2016
Suzie Skougard was a wife and the mother to three kids who thought she had everything figured out. Then, just before her 30th birthday, she had her fourth child, Carly. She was born with Down syndrome.
Suzie recently shared this touching story about her daughter and a local grocery store employee that sheds some light on people with Down Syndrome...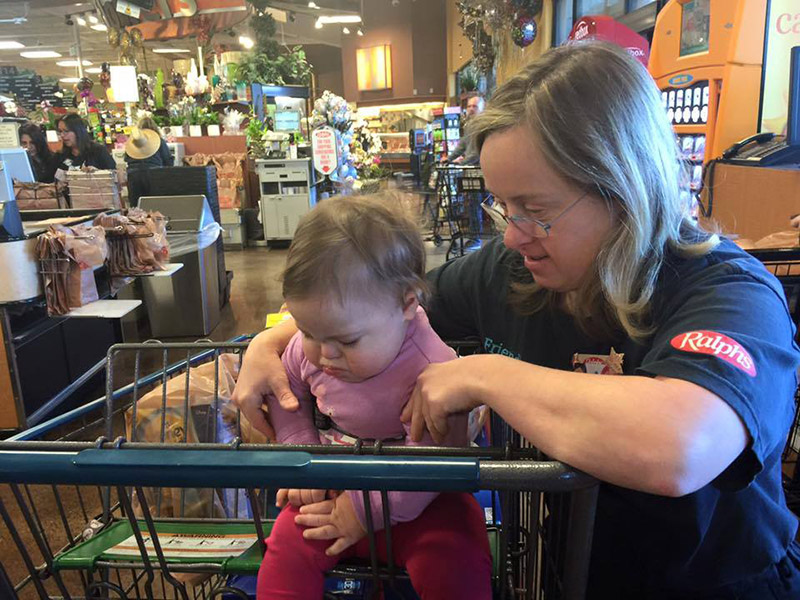 Credit: Facebook / Team Carly Jean
By the time I took the picture Carly had gotten upset, (it was past time for milk and nap was interrupted) but I still took this picture, because when exchanges like this happen, they are my favorite moments in the world. This woman works at our local grocery store, I always pick her checkout lane. Even back when I was pregnant-- I chose hers, even when the line was longer. When I was pregnant, I'd talk to her in the few minutes I had. I wanted to know what Down syndrome would mean for my daughter as she got older. What would her life be like? Would she be anything like this woman?
I never mentioned that Carly had Down syndrome until one day out of the blue when Carly was around 6 months old, she wrapped her arms around her and said, "She has Down Syndrome."
"She sure does," I said.
Today as we were leaving the store, she said, "I have Down Syndrome like her, and I have a big heart."
"You definitely do have a big heart," I replied.
"Does she know sign language?" She asked as she pointed in Carly's direction.
"She knows a few signs!"
"When I was a baby I did this one (she signs 'more') and this one (she signs 'please').
"Yes! Carly knows those ones!"
"I also know one more for her, I can teach her!" And she signed 'I love you.'
I interacted with a lot of people at the grocery store. There was a woman who scolded me for not having shoes on Carly on a cold day, (she kicked them off), a clerk who was less than interested in helping me find an item, and an impatient person that shoved past because we were following behind an elderly gentleman that was moving slowly when they were in a hurry.
Some people feel like people with Down Syndrome don't contribute anything meaningful to society, but amidst all the Grinches today, she stood apart. And just being her, she gave us an amazing gift. A smile.
Written by Suzie Skougard for Love What Matters. Visit Team Carley Jean on Facebook.
Please consider
making a donation
to
Sunny Skyz
and help our mission to make the world a better place.
Click Here For The Most Popular On Sunny Skyz
LIKE US ON FACEBOOK!