A Homeless Man Told Him That All He Wanted Was To Go Home. What Happens Next Is Incredible
September 19, 2015
A month ago, I started a Facebook page called People of East Texas. This page is set up to allow me to talk to people all walks of life throughout the East Texas Region and tell a story about them.
I found Rodney sitting in the Downtown Square in Tyler, TX. I had seen him before numerous times as I drove by but this time I stopped to talk to him. He didn't have much to say the first time we spoke. In fact, he refused to allow me to take his photo. The one thing he did mention to me is that he wanted to go home to Lewistown, Montana. That was a month ago.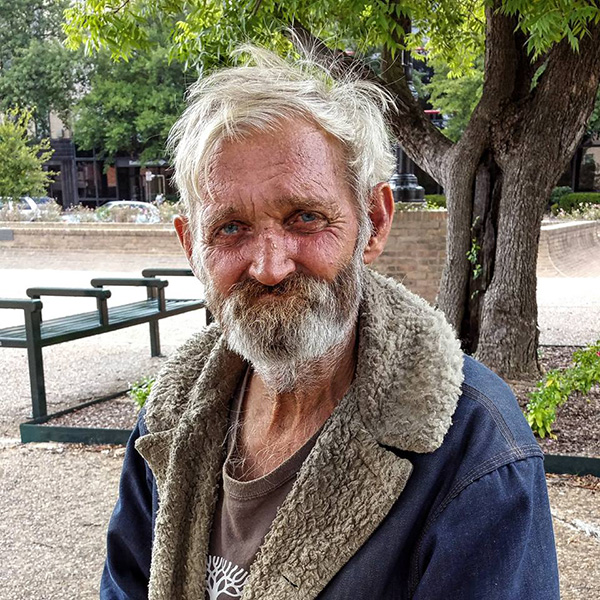 Last week I stopped by again. I spoke to Rodney like he and I had known each other for years. His face lit up. I saw the corner of his mouth rise into a half grin. As I sat with him, he told me about his hometown of Lewistown, Montana. I asked him if handed him a bus ticket next week to go home if he had anything holding him back from getting on a bus home. Without hesitation, he looked at me and said, "Nothing. I'd go right now."
By the end of our talk, as I got up to leave he asked me if I still wanted to take his photo. He was on the verge of tears when I snapped it...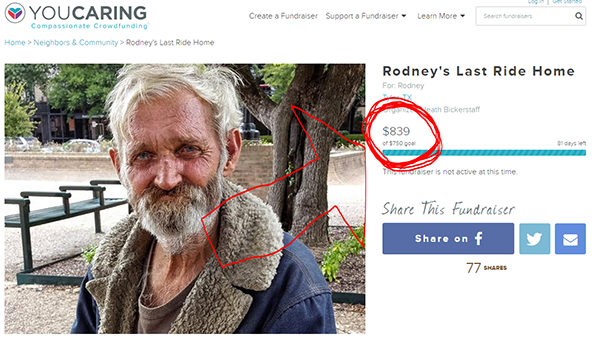 I gathered a little more information about Rodney and a little about his family (just one sister) in Montana. He told me that he had lost touch 16 years ago when his phone broke and he no longer had her number. Long story short, I found her via Google and found out that she thought he had died. She was in tears when the conversation ended.
I posted this fundraiser along with his photo on the People of East Texas Facebook page and raised well over the $750 I was asking for. It was raised in LESS THAN 4 HOURS!
I went to reveal to Rodney that he was getting to go home but he already knew. A few people that had seen my post stopped by the downtown square and told him a day before I got to him.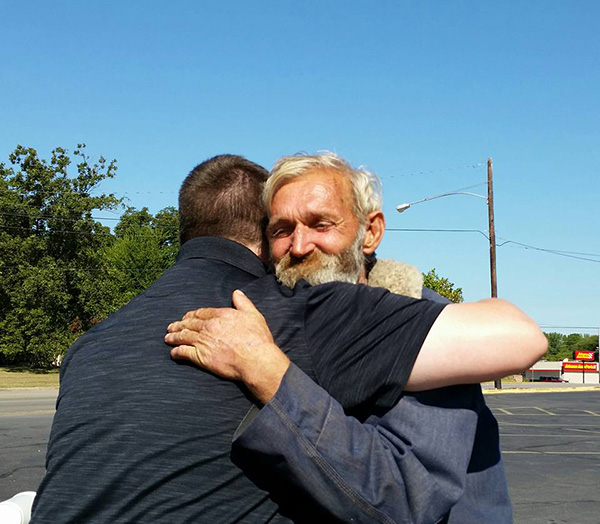 My wife made a list of everything he needed. We found out the closest bus station was 125 miles away from home and after looking into countless options to get him directly home, we ultimately concluded that he would have to hitchhike the rest of the way. We bought him everything on this list along with a really comfortable pair of hiking boots.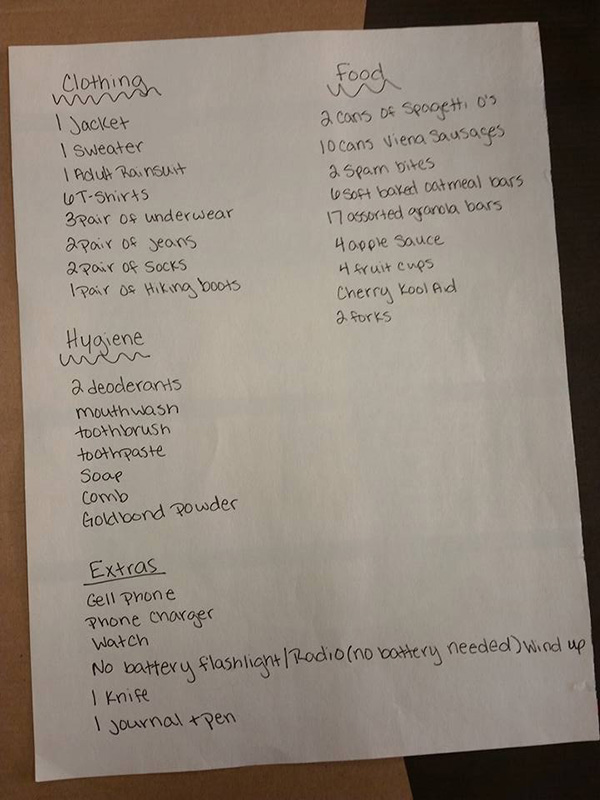 These are the food items he requested for his trip. Along with these items we gave him cash to stop and eat along the way.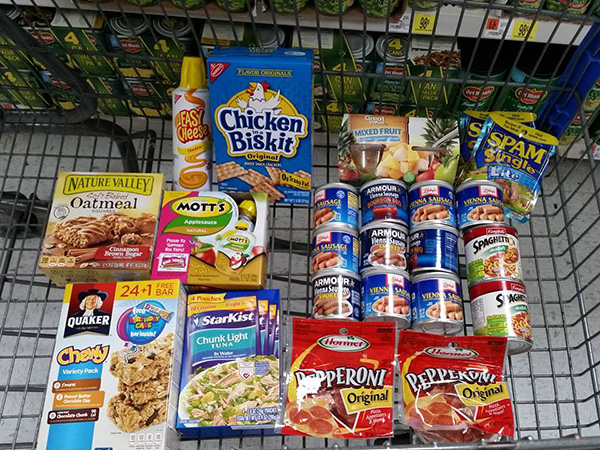 We unpacked his bag in front of him so he could see everything he was taking along, this way he could pack his own bag and put things where he wanted them. He couldn't stop laughing.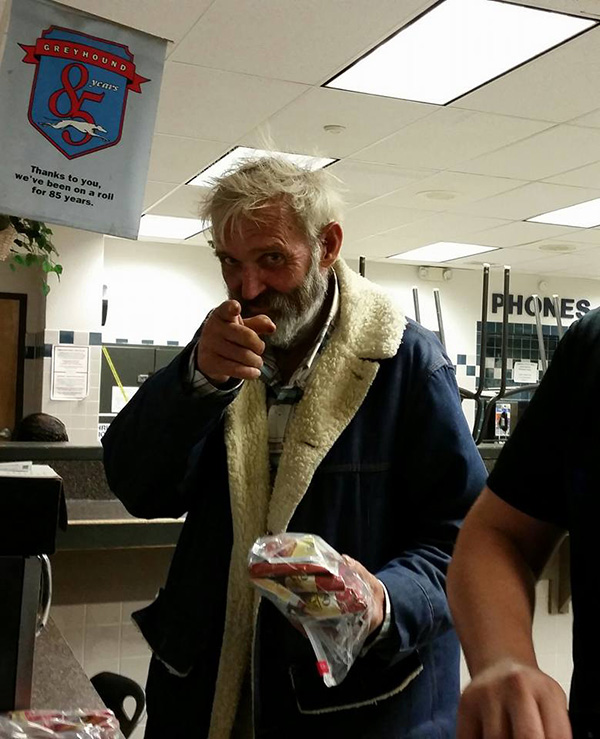 Goodbye Rodney... :)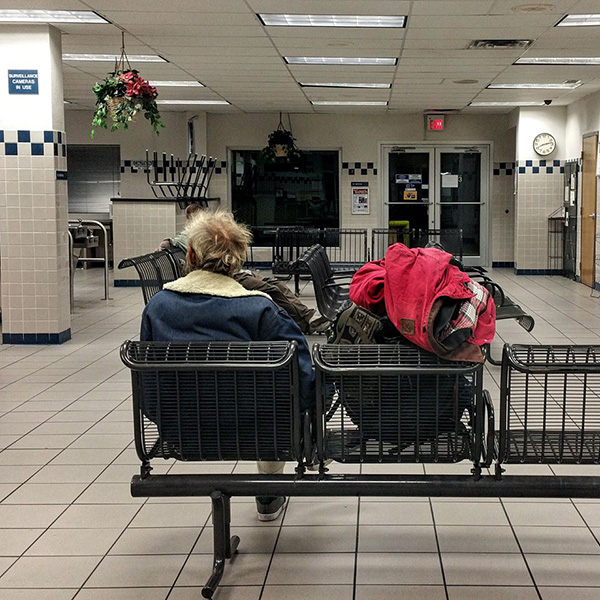 If you want to see more amazing stories like this, like Facebook.com/PeopleofEastTexas.
Please consider
making a donation
to
Sunny Skyz
and help our mission to make the world a better place.
Click Here For The Most Popular On Sunny Skyz
LIKE US ON FACEBOOK!