Chicago Police Officer's Heroic Act Saves Drowning Woman
June 30, 2023
A Chicago police officer is being hailed as a hero after she fearlessly risked her own life to rescue a drowning woman.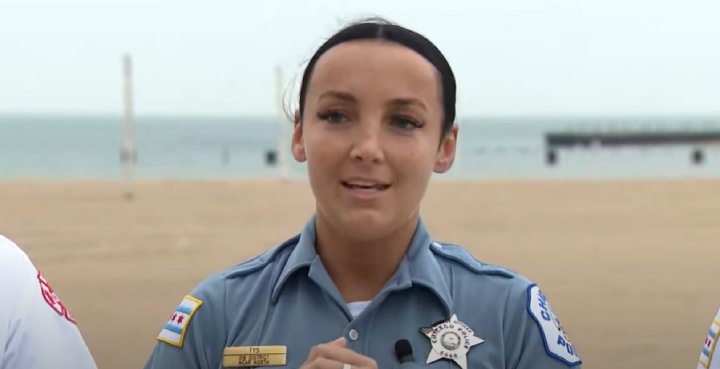 Joanna Tys / Credit: WGN News / Youtube
Officer Joanna Tys arrived to North Avenue beach around 5:30 a.m. after onlookers saw a swimmer in distress and called 911.
At first, Tys said she hesitated to go in because she knew the Chicago Fire Department's specially-trained Marine Unit was en route. But when she heard their ETA, she jumped in and started swimming.
"Four minutes is a long time," said Tys. "The lady was out there for 15 to 20 minutes already. So I decided it's time for me to jump in. I looked at one of my coworkers, and we signaled to one another. I jumped in. I started swimming towards her. Halfway, I started to really get tired. But I heard my coworkers telling me: keep going, keep going."
Tys reached the 26-year-old woman, wrapped her arm around her, and was able to hold her above the surface until the CFD Marine Unit arrived.
"She was just saying over and over again how happy she is that I saved her life, and about how much she loves me. It was a really great moment," said Tys. "That was probably the best moment in my career."
Watch the good news video below.
Please consider
making a donation
to
Sunny Skyz
and help our mission to make the world a better place.