Janitor Stays Overnight To Care For Abandoned Seniors After Their Facility's License Was Suspended
November 1, 2013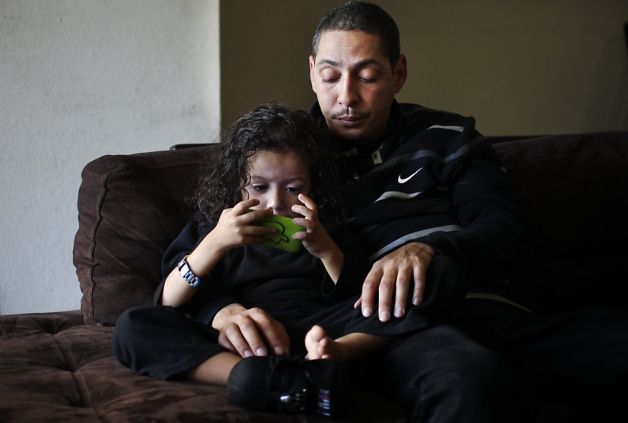 Miguel Alvarez had never worked in a senior care home. He had never administered medications. The only reason he took the janitor job at Valley Springs Manor in early October was to save money for Christmas gifts for his children.
Yet last week, as the Castro Valley care home plunged into chaos amid a state-ordered closure, Alvarez found himself changing diapers, bathing, spoon-feeding and otherwise comforting more than a dozen seniors who had been abandoned there.
"I'm a janitor - I didn't know what I was doing. I just tried the best I could," Alvarez, 33, said Thursday at his home in San Leandro.
Alvarez was one of two employees of the care home who stayed when everyone else - including management - left as the state yanked the facility's operating license. On Thursday, he told his story to media members for the first time.
He cried as he described a nightmarish scene of confused seniors shouting for help, some becoming weak and "zombie-like" because they hadn't received medications in several days, and others trying to escape.
"I'd never want to see my parents or grandparents go through anything like that," he said. "I liked these people. I wanted to treat them well."
Last Friday, While Alvarez and cook Maurice Rowland were busy with other residents, Edmund Bascom, 65, walked out of the facility. He still has not been found.
Alvarez and Rowland - a friend who helped Alvarez get the job - stayed at Valley Springs Manor 24 hours a day after the rest of the staff left, walking off their jobs because they had not been paid, some in more than two weeks - and because the state suspended the owner's license, effective at 6:30 p.m. Oct. 24, for a broad range of safety and health violations.
Alvarez was hired at Valley Springs Manor early last month for $8 an hour to clean up after residents and take out the trash. His mother came from Stockton to look after his children while he and his wife worked.
Alvarez said he met the owners just after he was hired but never saw them again. His supervisor was a manager who lived in a laundry shed behind the facility, he said. The manager gave out paychecks and administered most medications, although in the days before the closure he vanished, Alvarez and Rowland said.
"We kept calling and calling, but he either didn't answer or said he'd come by and never did," Alvarez said. "We just kept waiting. I kept thinking someone would come by eventually."
Alvarez - who still has not received pay for any of his work at Valley Springs Manor - slept on a rocking chair in the TV room, afraid to leave the residents alone overnight. Doling out medications was the toughest part; he didn't know who got what, or how much.
"The residents would say, 'I get five of those!' Well, I didn't know," he said, adding that five pills seemed like too much to give anyone. He said some residents never received any medications.
By late on the night of Oct. 25, he noticed some of the residents felt "clammy" and had trouble sitting up. He said he and Rowland called 911 several times when residents appeared to be sick, and finally sheriff's deputies and firefighters arrived Saturday afternoon to rescue the remaining residents.
"I just thought, 'Thank God, now they'll be safe,' " he said. "I just went home and slept."
On Wednesday, Alvarez and Rowland - worried about Bascom, whom they say called himself "Goldfinger" - got together and rode their bicycles around San Leandro looking for the friendly, mentally ill man, who was last seen at the San Leandro BART Station.
"If we can find Goldfinger, then we'd really be heroes," Alvarez said. "I just feel bad for what happened, though. I wish we could have done more."
---
Good News Source: SFGate.com | Photo: Leah Millis, The Chronicle
Please consider
making a donation
to
Sunny Skyz
and help our mission to make the world a better place.
Click Here For The Most Popular On Sunny Skyz
LIKE US ON FACEBOOK!