Couple treats 500 strangers to coffee, act of kindness becomes contagious
July 31, 2013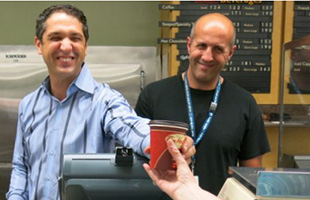 Late Monday afternoon a very pregnant couple marched into Tim Hortons in the basement of Toronto's Mount Sinai Hospital on a mission.
They wanted to give away 500 small double-doubles, but not their names.
When a cashier told Tim Hortons manager Rob Reale that a couple wanted to treat 500 strangers to coffee the next morning, he invited the pair into his office, where they gave him $751 in cash.
"I asked their names and they wouldn't tell me," said Reale, who guesses the couple, expecting their first baby in about two weeks, were in their late 20s.
The random act of kindness is the latest in a series of anonymous "pay it forward" coffee orders across Canada, after a 20-something man walked into an Edmonton Timmies last week and paid $860 for coffees for the next 500 customers, followed byan Ottawa customer a few days later who paid for 500 coffees.
"I've been here 23 years and I've never seen anything like this," said Reale, who asked the couple what prompted their gift.
"They said the service here was incredible, so they just wanted to give back to our staff."
Free coffee started at 8 a.m. Tuesday at Mount Sinai, and ran out by 10:38 a.m. The hospital chipped in an extra 60 to 80 coffees.
"It was pretty much mayhem," said Gustavo Scolieri, who started work at 5 a.m. "When people caught wind that there was free coffee, people just started rushing down here."
Reale said everyone was in a great mood and "had an extra skip in their hop."
And it seems the giving spirit was contagious.
By mid-afternoon Tuesday, the hospital received another anonymous gift, from a construction worker who heard the story on the news. The former patient donated $200, which bought 133 coffees.
For Scolieri, the only normal part of the day was the most popular order.
"Small double double."
---
Source: TheStar.com | Image: Melinda Maldonado / Toronto Star
Please consider
making a donation
to
Sunny Skyz
and help our mission to make the world a better place.
Click Here For The Most Popular On Sunny Skyz
LIKE US ON FACEBOOK!