A Mom Called PBS Asking For Mr. Rogers' Autograph. Instead, He Flew Out To See Her Daughter With His Puppets
May 9, 2022
A mother once called into PBS, asking if Mr. Rogers could send an autograph to her daughter. She was suffering from seizures and set to have brain surgery.
When Fred Rogers heard about it, he flew to see her in the hospital.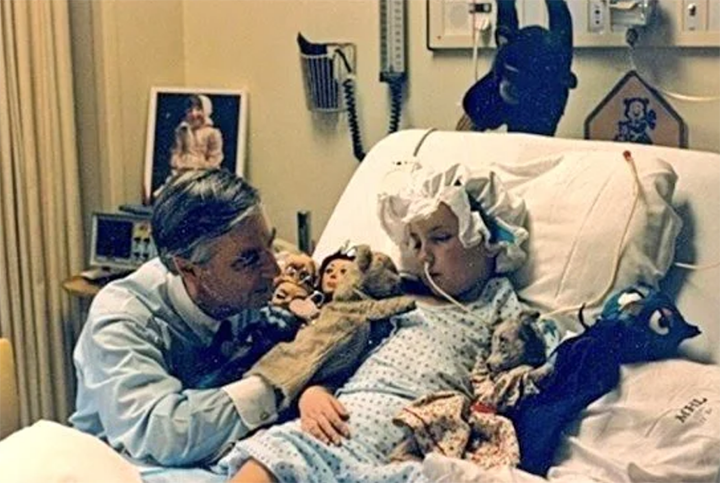 Credit: Usher family
When Beth Usher was in kindergarten she had her first seizure. Doctors couldn't find the problem and sent Beth home.
A few days later, Beth had another seizure. Then another. And another.
Eventually, she had around 100 seizures a day. She was diagnosed with Rasmussen's encephalitis, a rare inflammatory neurological disease that only affects one hemisphere of the brain.
Miraculously, during the 30 minutes when Mister Rogers' Neighborhood aired, Beth never had a seizure.
"I found his voice comforting. I felt like he was talking to me and nobody else," Beth told WUSA 9.
Before surgery that involved removing parts of Beth's brain affected by the disease, her mother Kathy reached out to the Mister Rogers Neighborhood studio and spoke with the secretary, explaining the situation and asking if she could get a signed copy of Mr. Rogers' picture for Beth.
Less than an hour later, the secretary called back with a special message.
"'Will you be home this evening at 7? Fred would like to call and speak with Beth,'" the secretary told Kathy. "He called, and I said to Beth, 'Beth… there's a friend on the phone for you.'"
Beth spent over an hour on the phone with Mr. Rogers.
"I told him things I hadn't told my mom or dad. I told him about the surgery and how I thought I might die," said Beth. "It was like talking to an old friend."
On February 4, 1987, Beth underwent a 12-hour procedure to remove the left hemisphere of her brain. Initially after surgery, she was fine. But things took an unexpected turn, and she slipped into a coma.
"Mr. Rogers would call the hospital every day to check up on me," said Beth. "When he found out I wasn't improving, he decided to make a trip."
Beth's family and nurses stood in the doorway watching as Rogers removed his puppets from his case.
"He gave Beth her own private show," said Kathy.

Credit: Usher family
Shortly after Mr. Rogers visit, Beth did wake, surrounded by friends.
When Mr. Rogers called that day, Kathy told him the good news.
"He said, 'Praise God'."
Mr. Rogers and Beth's friendship continued through the years. He always called Beth on her birthday until he passed away in 2003.
Please consider
making a donation
to
Sunny Skyz
and help our mission to make the world a better place.
Click Here For The Most Popular On Sunny Skyz
LIKE US ON FACEBOOK!