10 Things We Learned About Seinfeld From Reddit's Q&A, Plus A Mystery Project With Larry David
January 7, 2014
Via Rolling Stone.com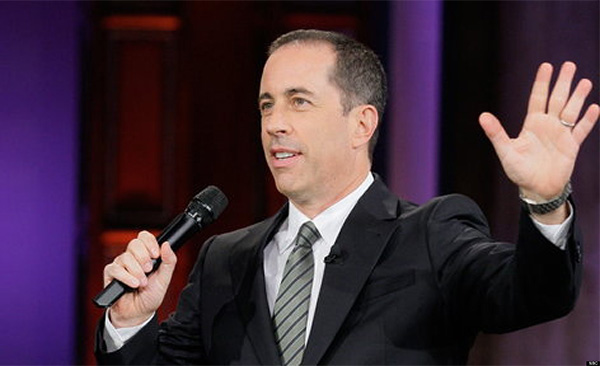 Near the end of his Q&A session – and after our report was published – Seinfeld hinted at "big, huge, gigantic" project with Larry David. "We never obsess over anything that isn't mundane," he wrote. "Most recent was intentional mumbling. We wrote this script for this thing that you will eventually see but I can't reveal what it is at this time."
Seinfeld went off the air over 15 years ago, but Jerry Seinfeld is still fielding questions about his "show about nothing." In a revealing AMA chat on Reddit yesterday, held to promote his web series Comedians in Cars Getting Coffee, Seinfeld talked about his history with show cocreator Larry David, the legacy of the series and more. Here are the 10 most interesting things he shared.
1. The first time he saw Larry David, he didn't approach him.
"That's a long story," he told a fan who wanted to know how he met Seinfeld's cocreator. "I actually was eavesdropping on him talking to another comedian, and I wasn't even in comedy yet. But he was leaning on my car in front of the Improv on 9th Ave and 44th Street [in New York City], and this would be probably 1975. That was the first time I ever saw him. But we didn't talk. But him and this other comedian were leaning on the fender of my car, and I knew that they were real comedians and I was still just flirting with it." He said they finally did speak at a bar called Catch a Rising Star two or three years later. "We couldn't stop talking," Seinfeld said. "We were both obsessed with the smallest possible issue."
2. He thinks The Hangover should have stopped with the first movie.
Responding to a question about how Seinfeld would be today, he said, "Everything would have had to change. The character[s] would have gotten married and started families, I suppose. But I still think everything has its life cycle and if you respect it, people enjoy it longer." He then took a moment to call out a movie franchise he felt "disrespected" its life cycle. "Look at The Hangover. If you made just one, the movie would be a comedy legend. Because they made three, it isn't."
3. He feels ambivalent about Seinfeld parody accounts on Twitter, like @SeinfeldToday.
"This is a very painful subject," he said. "As you can probably imagine, over the nine years of doing the show, Larry David and I sat through hundreds of ideas that people wanted to do on the show. And most of the ideas are not good. . . The ideas that Larry and I would respond to, I don't even know, they just need to be very unique. It's just a lot harder than it seems to come up with. And particularly for that show, where we tried to do things that were unusual, and you had to go through a lot of ideas to find the ones you like."
4. Seinfeld was not pitched as a show about nothing.
"The real pitch, when Larry and I went to NBC in 1988, was we want to show how a comedian gets his material," he said. "The show about nothing was just a joke in an episode many years later, and Larry and I to this day are surprised that it caught on as a way that people describe the show, because to us it's the opposite of that."
5. He likes laugh tracks.
"This was something we struggled with quite often on Seinfeld," he said. "Because we had real laughs on the scenes that were shot in front of an audience, but then we would shoot other scenes that were not in front of the audience (which didn't have any laughs) and then it felt like a bit of a mismatch, so we tried to compromise and put in a subtle laugh track. I think that one of the fun things of a sitcom is feeling like you're in an audience even though you're home, watching it by yourself. I have to say I like some sitcoms with them and some without. Depends on the show."
6. His two favorite episodes to film were "The Rye" and "The Pothole."
He liked "The Rye," "because we got to shoot that at Paramount Studios in LA which was the first time that we thought, 'Wow, this is almost like a real TV show.' We hadn't felt like a real TV show, the early years of the TV show were not successful. We had this idea of a marble rye and we had to shoot it in an outdoor set, and this was a very expensive thing to do, it's like a movie place there at Paramount in LA. Their standing set for New York looks exactly like it, and we thought, "This is where the adult shows are, the real shows like Murphy Brown.' We felt like we were a weird little orphan show. So that was a big deal for us."
As for "The Pothole," he said, "It was really fun to shoot, and it was fun to set Newman on fire. And he screamed, 'Oh, the humanity,' like from the Hindenburg disaster. It's one of my favorites."
7. He once stopped filming a Seinfeld episode because it just wasn't funny.
"There was one episode where Jerry bought a handgun," he said. "And we started making it and stopped in the middle and said, 'This doesn't work.' We did the read-through and then cancelled it. A lot of other stuff happened, but trying to make that funny ended up being no fun."
8. He enjoys being abused by comedy club owners.
"In the documentary I did in 2002, called Comedian, there's one point where I'm performing at Governor's in Levittown at the absolute height of Seinfeldmania," he said. "And the club owner comes in the dressing room and says to me, 'I need you offstage by 9:15.' And I said, 'What?' And I was performing there to create a new act. It was kind of a big deal that I would come to that small club, and the owner of the club just treated me absolutely the same as everybody else, and I just thought that was so funny. . . That's why I wanted to go back into doing standup comedy, because as the star of your own TV show you don't get treated like that but as a standup performer you do get treated like that."
9. Rather than respond to hecklers, he "counsels" them.. Genius!
"Very early on in my career, I hit upon this idea of being the 'Heckle Therapist,'" he said, "so that when people would say something nasty, I would immediately become very sympathetic to them and try to help them with their problem and try to work out what was upsetting them, and try to be very understanding with their anger. . . I would say, 'You seem so upset, and I know that's not what you wanted to have happen tonight. Let's talk about your problem.' And the audience would find it funny and it would really discombobulate the heckler, too, because I wouldn't go against them, I would take their side."
10. He wears white sneakers as a nod to Joe Namath and Bill Cosby.
Responding to a question about his proclivity for white sneakers, Seinfeld said, "It started with wanting to be Joe Namath of the 1969 New York Jets, who at that time was one of the only football players to wear white shoes. And I wanted to be like him, so I always wore white sneakers. Also, Bill Cosby on I Spy always wore white sneakers. And they were my fashion icons."
Please consider
making a donation
to
Sunny Skyz
and help our mission to make the world a better place.
Click Here For The Most Popular On Sunny Skyz
LIKE US ON FACEBOOK!