This Mom's Story About Her Crazy Morning Will Have You Crying With Laughter
September 26, 2017
A mother of six recently shared all of the crazy events that took place in her home one morning and the story will have you laughing so hard you cry...
Via Tara Wood on Facebook:
Our dog was hit by a car last Saturday and had to have a hind leg amputated. His remaining hind leg was pretty mangled, too, so he's had to have his wounds cleaned and bandaged every day.
I've been spending most of my time doting on him and alternately crying about his injuries then feeling grateful and appreciative that those injuries were non-fatal.
It's been an emotionally and physically challenging week but then life delivered some super crap yesterday morning which let me know that things were pretty much back to our abnormal normal around here.
Mia kissed me goodbye as she left for the bus stop then turned around and said "I smell something burning."
I noticed it too- it smelled like plastic melting- so I checked the toaster- all good, ran upstairs to be sure none of the girls had left their hair straighteners or curling irons on- nothing there.
The smell was getting stronger and stronger but none of our smoke alarms were going off and I couldn't see smoke anywhere at all.
I started getting panicky so I shook Garrett awake while low key screaming "WAKE UP SOMETHING IS ON FIRE BUT I CANT FIND WHAT IT IS AND WE'RE ALL ABOUT TO DIE I THINK!"
He was all "What now?"
And I was "SOMETHING IS BURNING IN THIS HOUSE AND THERE ARE SIX KIDS AND A HOBBLED DOG AND WE ALL NEED TO ESCAPE RIGHT NOW PUT ON YOUR PANTS AND HELP ME NOT DIE WOULD YOU?"
So he was moving at a glacier's pace although he could smell the burning whatever as well.
I was running from room to room like a mouse on meth when I saw white smoke wafting from our game room.
Ronan was actively playing the Wii, completely unaware and unaffected by the smoke filling the room.
I looked up and saw a sock- one of Leo's socks- smoldering and melting onto the bulb of the ceiling light fixture.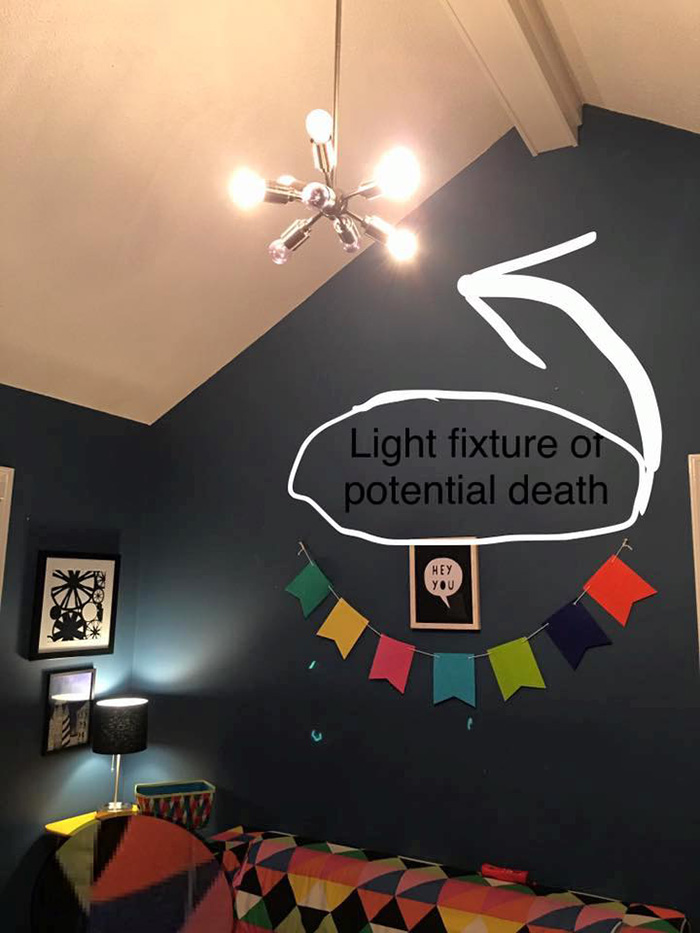 Credit: Tara Wood, Writer
So then I was all "OH MY GOD HOLY CRAP WHAT IS EVEN HAPPENING LEO YOUR SOCK IS ABOUT TO CATCH OUR HOUSE ON FIRE WHY IN THE HECK IS YOUR STANK SOCK ON THE LIGHT FIXTURE? WE COULD HAVE HAD A SOCK FIRE!"
And while I'm standing in a chair and using one of Marigold's dolls- which now has a disfigured, melty head because it's what I used to push the flaming gym sock off of the bulb and onto the floor, Leo just sheepishly shrugged his shoulders and said "Sock Fire would be a cool band name."
And I was all "YOU UNDERSTAND THAT THIS COULD HAVE BEEN CATASTROPHIC, RIGHT? AND YES THAT WOULD BE A COOL BAND NAME BUT RIGHT NOW I NEED YOU TO OPEN THE WINDOWS AND WINDMILL YOUR ARMS AROUND BECAUSE THE SMELL IS ALL IN MY MOUTH AND I JUST WASHED MY HAIR AND IMMA BE PISSED IF I SMELL LIKE A BONFIRE TODAY GET TO FLAILING, FIRE STARTER!"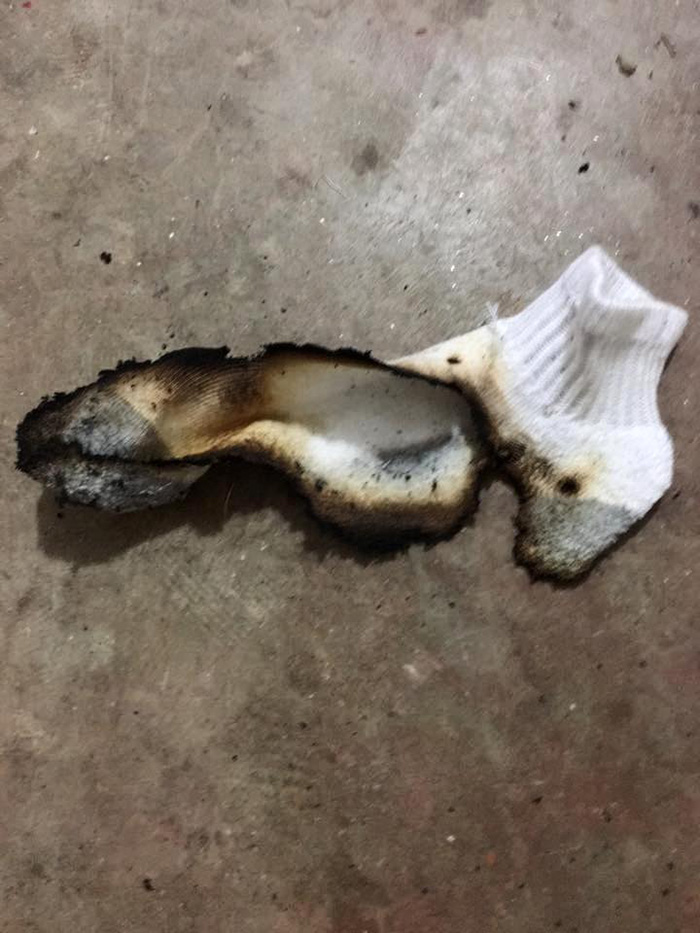 Credit: Tara Wood, Writer
So then I took my Xanax and did some deep breathing and calmed down and decided to be thankful that we got very lucky.
I'd just taken a sip of coffee when I heard Norah's flutey little voice say 'Mommy, Marigold is outside holding a baby squirrel.'
Hand to God, this was five minutes after I stomped out the smoldering sock on our garage floor.
Me: "I'm sorry, what?"
Norah: "It's so cute! And it's not even scared of her. He's just letting her hold him and kiss him and he's not even moving- come see him!"
So I did. And it was all true.
Marigold was holding a six inch long baby squirrel.
He wasn't frightened and was allowing her affection because he was dead as heck.
Me: "Yeah, sweetheart, I like your squirrel but can Mommy please hold him? He's, ummm...cold and I need to make him warm."
Marigold: "No. He sleepy time. I make him warm."
And then she put him IN HER SHIRT, y'all.
Me: "Okay, right, so I can see that you love him and you're taking such good care of him but can Mommy hold him so I can see how soft he is?"
Marigold: "He night night. Shhhhh..."
Me: "Give me the squirrel, darling."
Marigold: "I love him."
Me: "If you let me hold the squirrel, you can have a bowl of Doritos. A big bowl! And a fudge pop!"
She's very food driven so she unrolled the squirrel from her shirt and handed him over.
I placed his very deceased, limp body in a plastic bag, gave Marigold a quick bleach scrub down and made good on my Doritos and fudge pop promise.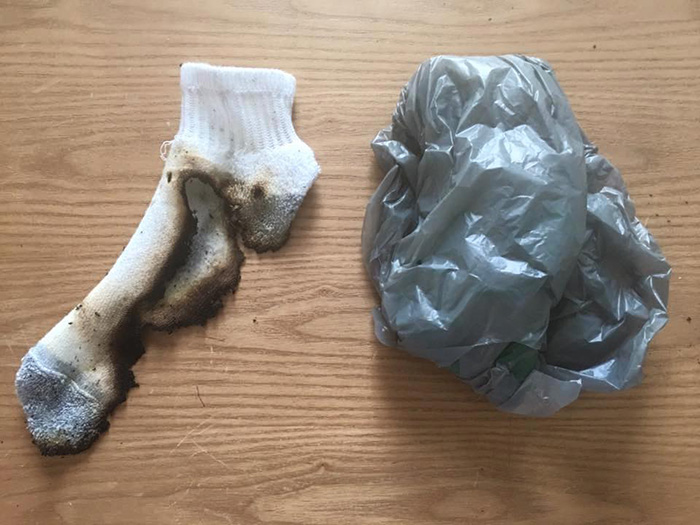 Credit: Tara Wood, Writer
All of this happened before 7:00am.
And that's how life reminds you that stuff can always be weirder so just, like, roll with it.
It's okay to laugh, guys. It's the best medicine. Wait, no, second best. Xanax is the first best.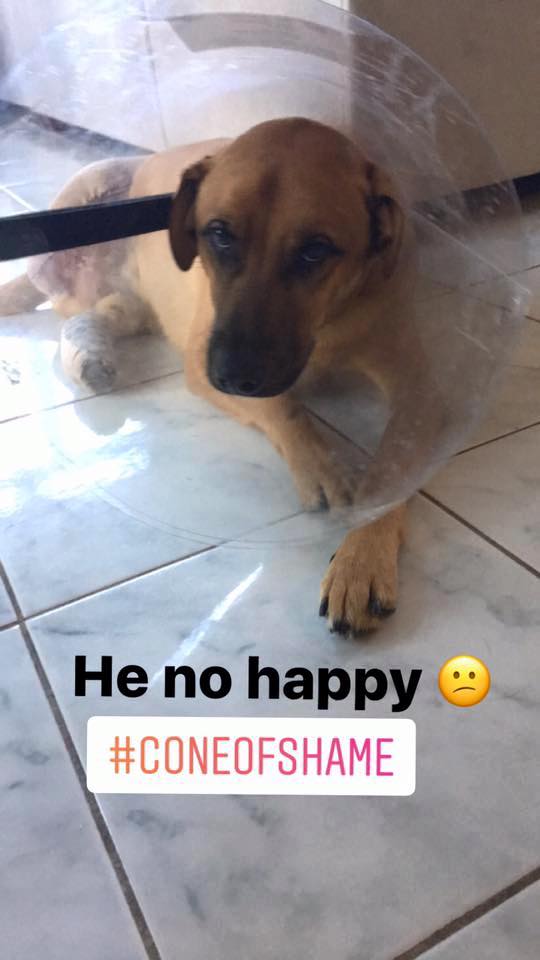 Credit: Tara Wood, Writer
Please consider
making a donation
to
Sunny Skyz
and help our mission to make the world a better place.
Click Here For The Most Popular On Sunny Skyz
LIKE US ON FACEBOOK!