Runners Spontaneously Stop To Thank 95-Year-Old War Vet During Big Race... It's Beautiful
March 5, 2014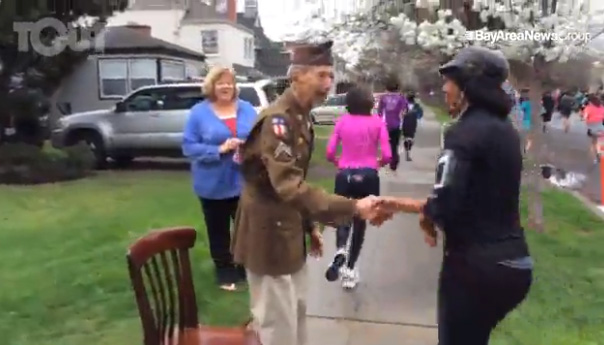 Julia Prodis Sulek / Video Screenshot
While the 408k road race benefiting the Pat Tillman Foundation was winding its way through a San Jose neighborhood, runners saw 95-year-old World War II veteran Joe Bell cheering on the event while dressed in full uniform.
The runners, in turn, showed their appreciation for Bell's long-ago service, detouring from the course to shake his hand.
The touching scene was captured by Julia Prodis Sulek of the San Jose Mercury News.
Source: San Jose Mercury News
Like us on Facebook!
Click Here For The Most Popular On Sunny Skyz
LIKE US ON FACEBOOK!