Husband, 108, And Wife, 105, Celebrate 82 Years Of Marriage
March 1, 2015
On Saturday, Duranord celebrated his 108th birthday. His wife will turn 105 in May. The couple has been married for 82 years.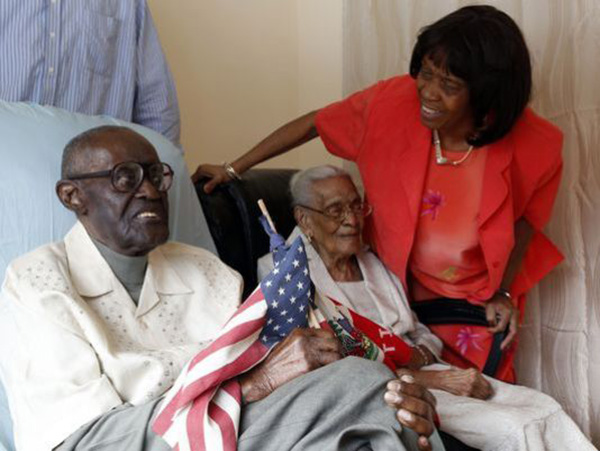 Photo: Tania Savayan/The Journal News
Duranord was born in 1907 to a fisherman in southern Haiti. He grew up in Port-au-Prince, where he studied law, and married Jeanne in November 1932, the same month Franklin D. Roosevelt was elected.
They raised five children together.
In 1968, Duranord lost his job, and he and his wife moved to the United States after being awarded a visa to visit. He began work as a lab technician at the Good Samaritan Hospital, where he worked for ten years before retiring. Over time, each of their five children came to the United States after their parents.
Now, Duranord is nearly blind and is hard of hearing, but that doesn't stop him from loudly cracking jokes in French Creole or from sharing his birthday cake with reporters.
"He remembers everything," said his son, Vely Veillard, 62. "Look at him! He don't want to use a cane. He's a superstar."
Duranord starts his day at 5 a.m. and does five to seven push ups. For breakfast, he has a cup of tea, oatmeal and fresh fruit. Lunch and dinner consist of fish and fresh vegetables. The centenarians nap early and often.
Neither he nor Jeanne leave the house except to visit the doctor, and both need assistance to walk, but they are still enjoying life as fully as they can. They both look forward to celebrating another landmark in their life.
Via The Grio. Full story at 11alive.com.
Like us on Facebook!
Click Here For The Most Popular On Sunny Skyz
LIKE US ON FACEBOOK!